Prepaid Gratuities on select Avalon river cruises.*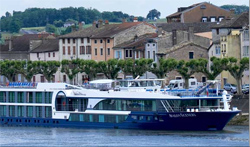 Prepaid Gratuities on select Avalon river cruises.*
Featured Avalon River Cruises:
ACTIVE DISCOVERY ON THE DANUBE
Avalon ImpressionSM
Budapest to Linz
Departing April 28, 2019
9 Days from $3,951 per person
EXCURSIONS INCLUDE: A guided biking tour, a guided canoe tour, meeting an Austrian Count at his castle, and sampling cheese and beer made by Trappist
...

The Possibilities are as Wide Open as the Views
If you want to see the world, cruise down its legendary rivers. If you want to see more of the world, look no further than Avalon Waterways. Our Suite Ships feature one-of-a-kind Panorama Suites, with the widest opening windows in river cruising, the industry's only Open-Air BalconySM, and beds facing the incredible views.
Beyond our wall-to-wall, floor-to-ceiling windows is a world waiting to be
...
This is an Exclusive Offer